Andy's just flying through his books now.  Of course we've done other things this summer – his little brothers had a birthday party at Chuck E. Cheese, he had a Memorial Day cookout at Grandma and Papa's, and we had a few baseball games.  But the last few days he's spent a little bit of time when he wakes up and a little time before bed reading.
Lately he's been all about superheroes, so it was no surprise when I went into his room and saw him reading The Amazing Spider-man: Flying High.  There's sure to be more superhero books coming up, because yesterday's trip to the local library ended with an X-Men and Hulk book in our pile.
In the car the last few days he wants to read.  I can't do it, because I get carsick if I'm trying to read in a moving vehicle, but this seems to be when he tackles chapter books like The Magic Treehouse #5: Night of the Ninjas. 
Ever since we found the show Dino Dan, which my kids love, but I think is one of the most obnoxious shows on TV, but I deal with it, because they seem to learn a ton from it, Andy's been into dinosaurs.    Superheros have taken over lately, but he picked Triceratops and Other Forest Dinosaurs at the library and plowed through it in no time.  He needed help pronouncing some of the dino's names, but so did I.  We returned that one and got another dino book from the same series this week.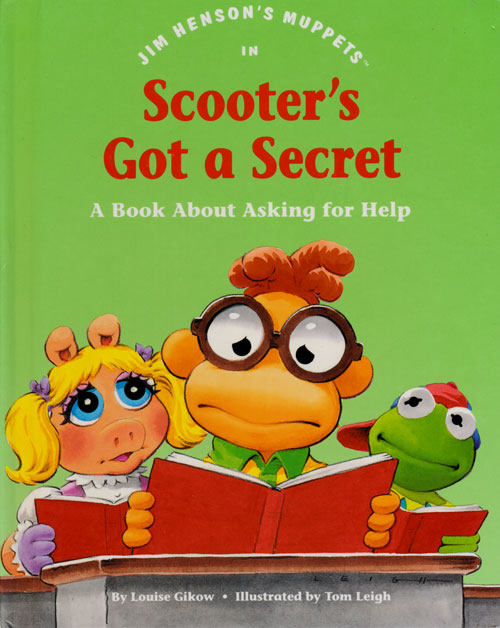 Twice a year our local library has a book sale.  I have no idea what they charge the first five days of the sale, but I show up every time on the last day – Saturdays.  Those days you get a plastic grocery bag and can shove as many books as you can fit inside for just $4.  Last time I wound up with two bags – 83 books for just eight bucks.  Scooter's Got a Secret is a Muppet book I grabbed at the last book sale for the little boys.  It's far too difficult for the three year olds, so Andy read it to them the other day.
Ten, Nine, Eight was another one we got from the library to read to the little guys, but the cool artwork – which is why it's a Caldecot Honor book – grabbed Andy's attention.
Finally, another book we got from the library sale – this one a few years ago, and Andy never seemed interested in reading it until now.  Robots: Meet the Robots  is a simple story from the animated movie Robots.  The movie was okay, but the book was not that great.  It did have a lot of tough vocabulary words like technology and industries, so that was kind of nice.
Andy's officially on his 9th day of summer break, and he's now read 12 books.  I think he's got a good shot at finishing 90 in the 90 days.